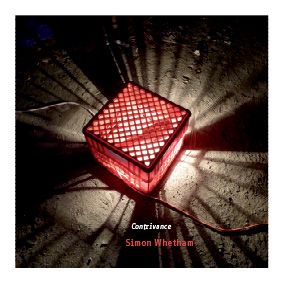 SIMON WHETHAM
Contrivance
3"CDR, (22'40''), 60 copies, printed cardboard cover
1000füssler 029, released in November 2015


7,00 EUR (include shipping)

The darkened stairwell leads downward into the bowels of the building, where rumbles and screeches tumble and collide. Detritus from the streets sits in corners and lines the walls, vibrating with echoes of activity. Instances trapped within glass and metal surround the listener, triggered by motion or occurring according to some other plan...

1. Contrivance (22'40'') mp3 excerpt

Sound sources: 'Found Sound Materials' installation by Simon Whetham, Artist Residency TEMI, Daejeon, Republic of Korea, November 2014.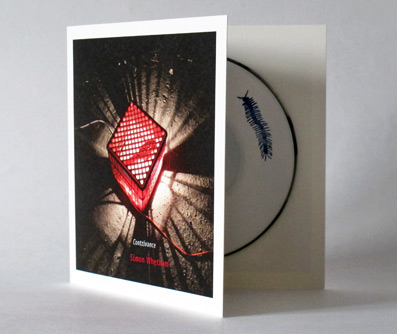 Activating objects and surfaces with found sounds and actions, Simon Whetham creates a shifting sonic environment that is comfortably disorientating. Simon is known for capturing and composing with recorded environmental sound, but over the last few years has pursued an interest in acoustic investigation and dislocation of sound. He continues to run the project 'Active Crossover', which ran through 2011 as a national touring exhibition and has since developed into a worldwide cultural exchange project. Through workshops, performances, presentations and open lab projects he continues the themes of exchange and sharing.
simonwhetham.co.uk




REVIEWS:


Le Son du Grisli / France

C'est un petit disque (22 minutes), mais aussi ce qu'il reste d'une installation : « Found Sound Materials », que l'on put (façon de parler) voir et entendre en Corée en 2014. Est-ce le bruit que fait cette cage illuminée de couverture en réponse aux allées et venues qui la frôlèrent ? Ce qui est certain, c'est qu'elle respire : industrieusement, et son souffle rejoint les vents qui la transpercent. De ces présences qui rôdent (en plus de la sienne), Whetham tire des chants autrement saisissants. Peut-être davantage, d'ailleurs, que ceux d'Against Nature.

Guillaume Belhomme, 2016/02/13 grisli.canalblog.com


Vital Weekly / Netherlands

Simon Whetham is also quite active when it comes to playing around with laptops and field recordings and he has releases on Entr'acte, Filament Recordings, Gruenrekorder, Lens Records, Mystery Sea, Unfathomless, 3Leaves, Monochrome Vision, Auf Abwegen and Cronica. His 'Contrivance' was recorded using his 'Found Sound Materials' installation in Daejeon in Korea, and if I understood correctly it is a darkened stairwell that 'leads downward into the bowels of the building, where rumbles and screeches tumble and collide. Detritus from the streets sits in corners and lines the walls, vibrating with echoes of activity. Instances trapped within glass and metal surround the listener, triggered by motion or occurring according to some other plan', which may not be entirely clear in relation to what we are hearing, which sounds indeed like a metallic stairwell, and detritus falling down. Most of the time this sounds pretty far away but in a few instances it is actually very close by and which delivers a lot of tension. It sounds like metal on metal with lots of rubbing and scratching. The overall dynamics of the piece certainly add to this tension; most of the time it is very quiet and sounds remain at the very low end of the recording (volume-wise) and together this makes up a really great piece, one that has a great care for detail.

Frans de Waard / Vital Weekly 1019


Bad Alchemy / Germany

SIMON WHETHAM ist als einer bekannt, der die drei Parameter der Soundart Space, Time und Sound als die Welt um uns herum begreiflich zu machen versucht. Mit Contrivance (1000füssler 029, 3" mCD-R) präsentiert er eine Versuchsanordnung oder Erfindung, bei der man als Time 22'40" eintragen kann, aber auch "wenn unheimliche Geräusche einem keine Ruhe lassen". Ort ist nämlich 'unten', 'am Ende der Treppe'. Von dort dringt, und das wäre der Sound, ein ominöses Rumoren herauf. Ein bohrendes Dröhnen und leises Klappern, ein eisenhaltiges Hantieren und hohles Vibrieren. Erst vorsichtig oder sich entfernend. Aber dann rollen sogar Rollwägen, mit lautem metallischen Zerren und Scheppern, das zuletzt wieder in die Tiefe und Stille absinkt. Wie der Spuk einer alten Mine als kleine Geistergeschichte für die Ohren.

Rigo Dittmann / Bad Alchemy 89





































www.1000fuessler